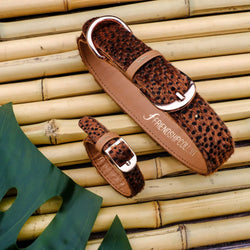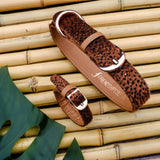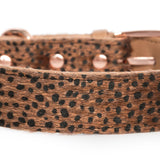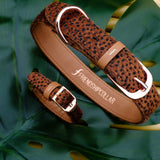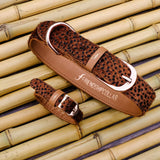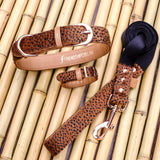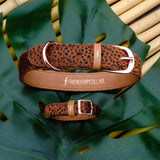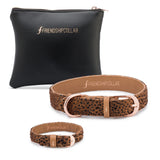 This textured furry fabric is the ultimate in faux but needs a little more TLC. So if it gets dirty we suggest that you dab it with a wet cloth and pat it dry. We also suggest you take your bracelet off when you shower or swim.

We use textured material and animal friendly vegan leather. Each set features our rose gold plated D-rings and hardware for a luxury finish.
All of our products are packaged with love & friendship, and arrive with you in our soft white drawstring pouch bags.
Please note: This FriendshipCollar is not compatible with our slider charms.
With 8 different sizes available, you are sure to find a super comfortable FriendshipCollar for your BFF. If you need any help choosing a size, check out our fun interactive sizing chart, no tape measure is required, all you need is your pooch!
Your matching bracelet is adjustable and one size fits all.
| | | | |
| --- | --- | --- | --- |
| SIZE | INCHES | CREDIT CARDS | WIDTH |
| XXXS | 6" - 9" | 2 - 3 | 1/2" |
| XXS | 9" - 12" | 2.5 - 3.5 | 1/2" |
| XS | 11" - 14" | 3.5 - 4.5 | 3/4" |
| S | 13" - 16" | 4 - 5 | 3/4" |
| M | 15" - 18" | 4.5 - 5.5 | 1" |
| L | 17" - 20" | 5 - 6 | 1" |
| XL | 19" - 22" | 5.5 - 7 | 1" |
| XXL | 21" - 25" | 6 - 7.5 | 1" |
Frequently Pawchased Together