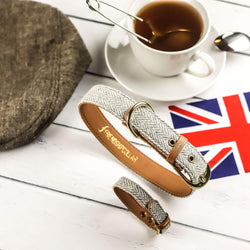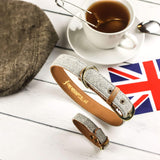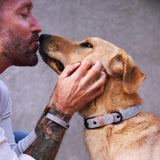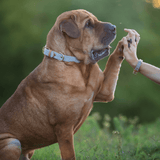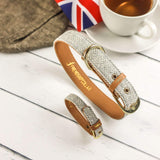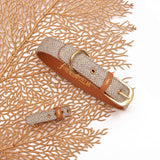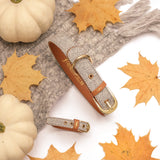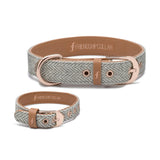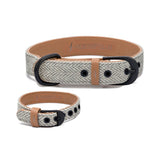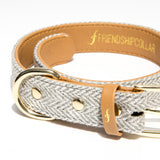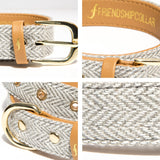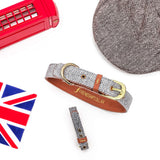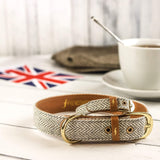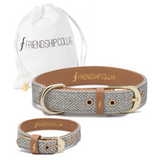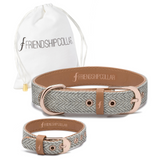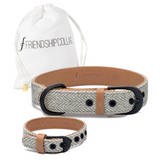 This textured tweed fabric needs a little more TLC. So if it gets dirty we suggest that you dab it with a wet cloth and pat it dry. We also suggest you take your bracelet off when you shower or swim.
Each set features our signature gold plated D-rings and hardware for a luxury finish.
All of our products are packaged with love & friendship, and arrive with you in our soft white drawstring pouch bags.
*Pawlease note that this fabric design is not compatible with our slider charm sets.
With 8 different sizes available, you are sure to find a super comfortable FriendshipCollar for your BFF. If you need any help choosing a size, check out our fun interactive sizing chart, no tape measure is required, all you need is your pooch!
Your matching bracelet is adjustable and one size fits all.
| | | | |
| --- | --- | --- | --- |
| SIZE | INCHES | CREDIT CARDS | WIDTH |
| XXXS | 6" - 9" | 2 - 3 | 1/2" |
| XXS | 9" - 12" | 2.5 - 3.5 | 1/2" |
| XS | 11" - 14" | 3.5 - 4.5 | 3/4" |
| S | 13" - 16" | 4 - 5 | 3/4" |
| M | 15" - 18" | 4.5 - 5.5 | 1" |
| L | 17" - 20" | 5 - 6 | 1" |
| XL | 19" - 22" | 5.5 - 7 | 1" |
| XXL | 21" - 25" | 6 - 7.5 | 1" |
Frequently Pawchased Together