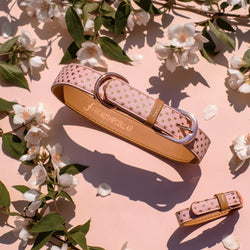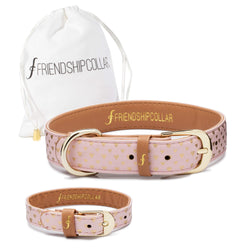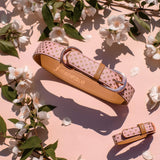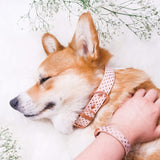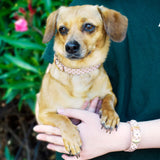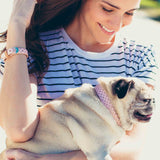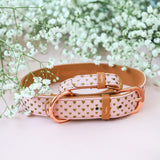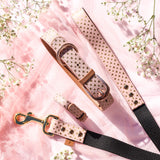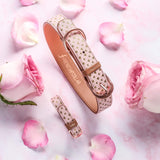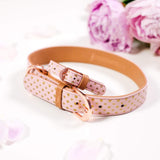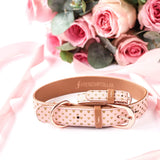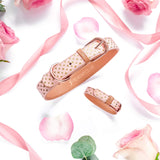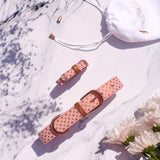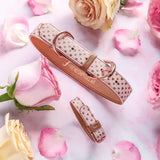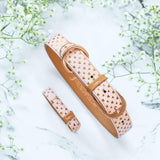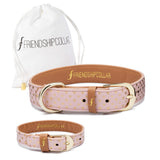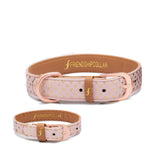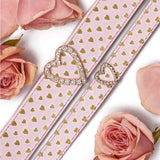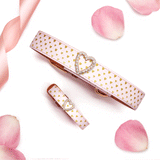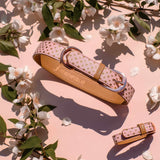 We stamp gold gilded hearts onto animal friendly vegan leather. All of our designs are water resistant, scratch resistant and UV protected.
Whether your bestie loves splashing around, enjoys a little rough and tumble with friends, or craves lazy days basking in the sunshine - their FriendshipCollar will stand the test of time!
Our FriendshipCollars are highly durable and easily wiped clean, making them the pawfect choice for mischievous besties that love playing outdoors!
Each set features our signature gold plated D-rings and hardware for a luxury finish.
All of our products are packaged with love & friendship, and arrive with you in our soft white drawstring pouch bags.
Did you know we sell charms that slide onto this FriendshipCollar! Check them out on our Slider Charms page!
With 8 different sizes available, you are sure to find a super comfortable FriendshipCollar for your BFF. If you need any help choosing a size, check out our fun interactive sizing chart, no tape measure is required, all you need is your pooch!
Your matching bracelet is adjustable and one size fits all.
| | | | |
| --- | --- | --- | --- |
| SIZE | INCHES | CREDIT CARDS | WIDTH |
| XXXS | 6" - 9" | 2 - 3 | 1/2" |
| XXS | 9" - 12" | 2.5 - 3.5 | 1/2" |
| XS | 11" - 14" | 3.5 - 4.5 | 3/4" |
| S | 13" - 16" | 4 - 5 | 3/4" |
| M | 15" - 18" | 4.5 - 5.5 | 1" |
| L | 17" - 20" | 5 - 6 | 1" |
| XL | 19" - 22" | 5.5 - 7 | 1" |
| XXL | 21" - 25" | 6 - 7.5 | 1" |
Frequently Pawchased Together